I recently acquired a pretty cool domain name! I have to admit that it was bought on a whim, with a view to flipping. But how do you flip a domain name? My latest challenge awaits, and I will document the journey here!
Disclosure: This post may contain affiliate links, meaning I may get a commission if you decide to make a purchase through one of these links. Please be assured that there is no additional cost to you by doing this. Please read my disclosure for more information. Thank you.
So, how do you flip a domain name? –
What's involved?
---
5 steps to flip a domain name
Find a suitable domain name
Purchase, and register the domain name
Value your domain name
Market your domain name
Sell the domain name to your buyer
What's Mark Zuckerberg got to do with it?
---
Ever have one of those days when an idea just pops into your head, and won't go away? I had one of those just recently!
For a while now, I've been very into listening to entrepreneurial podcasts when out walking. Entertainment/education, and exercise: two birds, one stone! My choice this particular day, was the "Invest Like A Boss" podcast (all about non-traditional investment opportunities), and today's subject was something I knew nothing about. The subject, this episode, was The Metaverse!
Really interesting discussion about the future of the Metaverse, and some companies that may be worth a punt, from an investment point of view. It turns out that Facebook is positioning itself to be at the forefront of this Metaverse technology, and will be investing heavily in its development.
During the show, they spoke about the recent interview that Mark Zuckerberg (Facebook) had with The Verge, in which he said "We're basically mediating our lives and our communication through these small, glowing rectangles".
Hmm! "Small glowing rectangles?", I thought. He's referring to mobile/cell phones as "small glowing rectangles"! What a great domain name that would make for a tech/phone/communications niche!
An idea was born! I would see if the domain was available.
---
For me, the most logical place to see if the domain was available, was through the platform I already have an account with. That platform, being Wealthy Affiliate. Prior to this, I would have had no idea how to purchase a domain name. My membership allows hosting for up to 10 (own domain) sites, which is fine, as I am not currently using all of these.
The process was very straight forward, and took, literally, just a couple of minutes! 
It was just a question of doing a quick search on the appropriate page on the Wealthy Affiliate platform.

Now, I know from the recent training I've been doing, that a ".com" domain is preferable, and fortunately this was available.
I was now the proud owner of the domain smallglowingrectangles.com The cost? Just $14.99 (£11.16). The question is, could I now flip this domain to make money? Time will tell!
How do you value a domain name?
---
"Where can I value my domain?", was the next question. If you Google this search term, you will get pages of options. On the day I did this (27th October 2021) the top result (organic) was…
solvid.co.uk
10 Best Domain Name Value Estimators & Domain Appraisal
This gives a useful starting point!
From here, it is easy to put the details into all of the domain value appraisal tools.
Marketing my domain name
---
Having bought my domain name, I now need to sell it to complete the process. For this I need to put it "out there" somehow: get it known!
I could have just sat on it for a while, and put it in a domain name auction, but thought that if I built the website on it, I could let the site "age". Hopefully get it to rank on page 1 on Google. This, I thought may increase the domain value, hence I went ahead and published the site.
This should also gave me the chance to put up a landing page to attract potential buyers.
The other way I intended to market this domain was through Pinterest, creating visbility through pinning.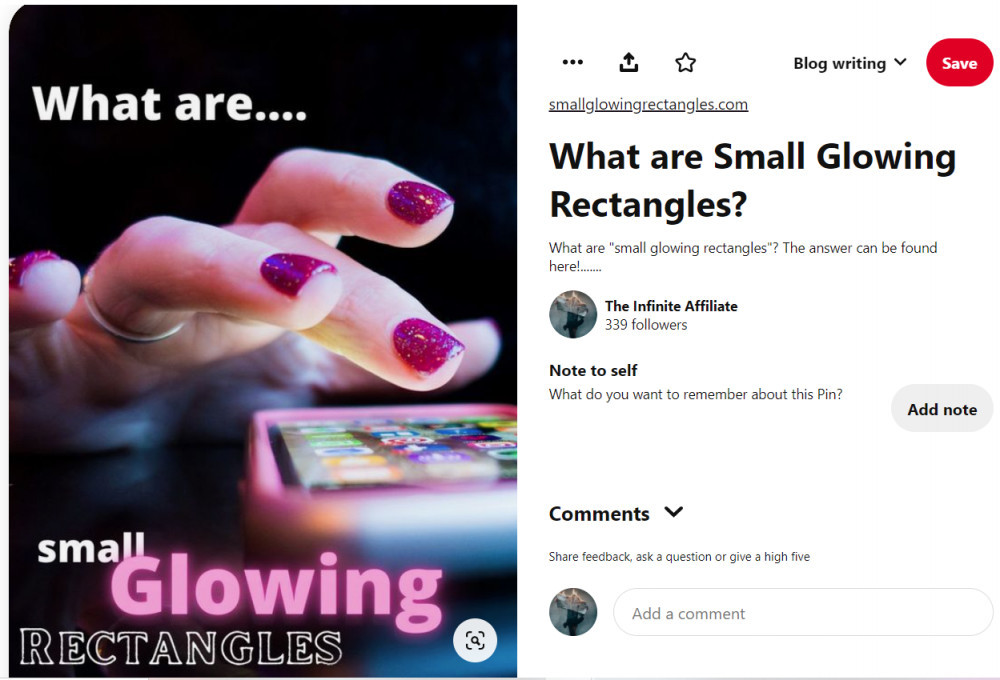 Timeline of a domain flipping process!
---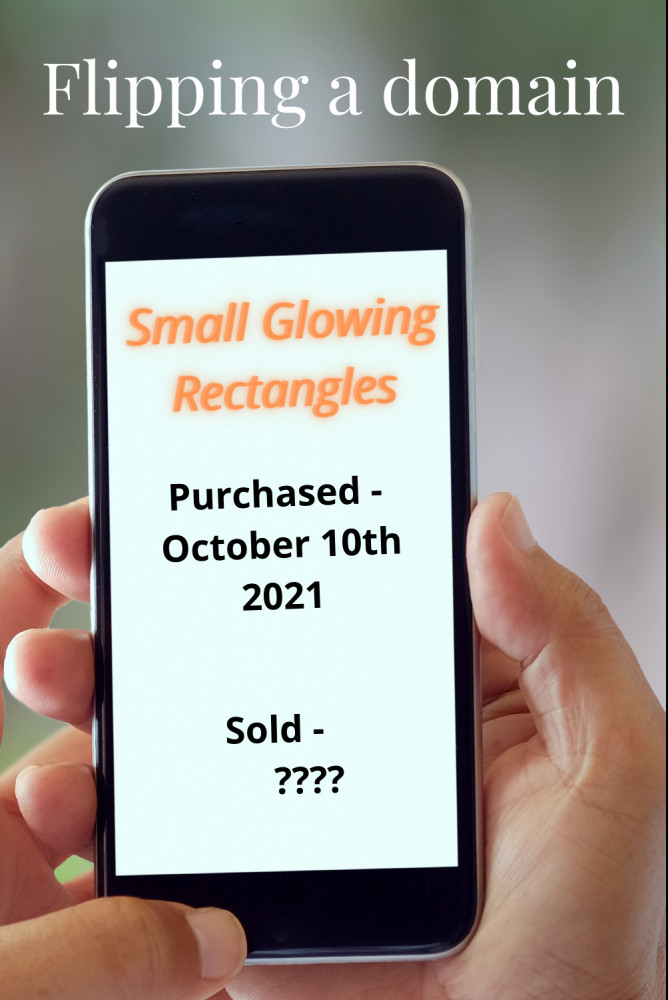 Timeline of a domain flip………
10th October 2021 – Domain purchased

10th October 2021 – Website build

12th October 2021 – Post published – The domain smallglowingrectangles.com is for sale!

13th October 2021 – Landing page indexed by Google

18th October 2021 – smallglowingrectangles.com is position 2, 1st page of Google!

28th October 2021 Facebook changes its name to Meta, to focus on the Metaverse

3rd November 2021 – Found this inspirational post on the Wealthy Affiliate platform

6th November 2021 – Ranking for keyword "Glowing Rectangles", Yahoo position 5 page 1

7th November – Small Glowing Rectangles ranks 1st position on Google, Bing, and Yahoo

7th November 2021 –  1st message arrived through the contact form….. Its SPAM! (update 21/07/2022)

21st July 2022 – To date,

#459 spam messages

received  through the contact form!

(update 21/07/2022)

So, did I sell my domain name? –
 (And how much for?)
---
The short answer so far, is NO,… not yet!  – (as of today's date = 27th October 2021)
To be fair though, I literally only just bought it a couple of weeks ago!
I am in no rush to sell it, as I would like some time for the quote from the podcast to be picked up by other blogs, podcasts, and news channels. This, hopefully, will create a bit of a buzz, throw up some interest, and Google searches for "Small Glowing Rectangles".
I have no actual factual basis for my theory: At this point it is a bit of a punt!

Was it worth doing?
---
So, how do you flip a domain name? Is it worth doing?
For me, this was a bit of an experiment, done on the spur of the moment! I was curious to find out about the process, and see if I could come out with some extra money in the bank.
Because I hadn't paid a massive amount for the domain registration, and the hosting cost was negligible, because I was already paying a subscription to Wealthy Affiliate anyway, it was worth the small investment.
I'm no flipping expert, but am enjoying the process, and learning how to flip a domain! 
What next?
---
At this stage, I still own smallglowingrectangles.com, and there is no conclusion to the flipping process currently.
I though it would be a good idea, rather than have a separate post for a future update, to just add further developments to this existing post. I think this would give better continuity.
For this reason, I will update this post as things progress, and will highlight any updates, for clarity and transparency.
Conclusion
---
Patience, my friend, patience!
This flipping business has a way to go yet until it is concluded!
If you are interested in following this journey, please pop back occasionally to see further updates.
And, if you have any experience, or domain flipping tips and advice, please Iet me know.
Leave a comment below, I'd love to hear your thoughts!
Wishing you much success……….
From The Desk Of THE INFINITE AFFILIATE
Related content….

 Wealthy Affiliate platform review
WEALTHY AFFILIATE REVIEW (2020) – Affiliate Marketing For Dummies Or Experts?