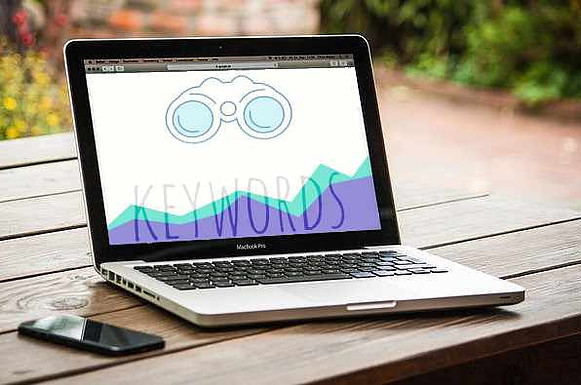 At the heart of all successful blog posts is a great keyword, and in this Jaaxy keyword research tool review, I will set out the workings of this great platform, which I use for all my keyword research.
I will give you an overview of the user interface (UI), and show examples of how you can use it to search out winning keywords for your content. There will be a chance to try out the platform, so you can evaluate this great tool yourself. Also, further down the review, I'll be setting out 3 bonuses, and letting you know how you can get hold of these for free!

If you're in search of some awesome keywords, and you'd like to elevate your chances of getting ranked by the popular search engines, let's jump right in!
Disclosure: This post may contain affiliate links, meaning I may get a commission if you decide to make a purchase through one of these links. Please be assured that there is no additional cost to yourself by doing this. Please read my disclosure for more information. Thank you.
Jaaxy Keyword Research Tool Review for 2021
---
Jaaxy Review
Name : Jaaxy
Website: jaaxy.com
Price: Free trial, $49 Pro, $99 Enterprise
Owners: Kyle & Carson
Overall Rank: 4 out of 5
What Is Jaaxy Keyword Research Tool?
---
Quoted from their own website: Jaaxy is the industry's only keyword and research platform that was developed by affiliate marketers FOR affiliate marketers.
Jaaxy is an online platform to help research popular search terms people type into search engines, thereby increasing the reach of your content to a greater audience.
It is also much more. In the world of content marketing, everyone is always looking for that competitive edge. Whether you are researching great keywords, looking for a niche, checking out your competitors in the space, tracking your performance, Jaaxy can help with them all.
With a user-friendly interface, it is easy to pull up, and organize a list of competitive keywords, in a short space of time.
You can use Jaaxy on all devices, as it is an online application. It will work with PC, Mac, smartphone, tablet etc, because there is no software download requirement.
Using data pulled directly from Google, Yahoo, and Bing (Covering 99.7% of the all searches made), it is an easy-to-use platform, where you can find and analyze amazing keywords, that relate directly to how your customers are searching.
Or, in other words, give them exactly what they are looking for!
Make your ideal potential customer's life easy!
Jaaxy Keyword Research Tool – Who it is for?
---
Jaaxy will be of benefit to anyone who wishes to gain advantage in the online business world, or who has a website.
The list is extensive, and includes:
Bloggers
SEO professionals
Affiliate marketers
Niche marketers
Youtube-ers
Authors
Content writers
Local businesses
e-commerce
advertisers
entrepreneurs
anyone with a message to get heard
Basically, anyone who needs to build an audience online, for the purposes of promoting a product, service, or message.
Anyone aiming for the 1st page of Google, Bing, Yahoo, etc.
Jaaxy Keyword Research Tool – User Interface Walkthrough
Below I will walk you through the various areas of this platform, and give a rough guide to their usage.

Keywords
---
So, what is a keyword search?
In brief, keyword research is the process used for seeking out competitive search terms that will convert to potential customers.
When people perform a Google search, they type words or phrases they are looking for, into the search box.
These search phrases are exactly how we can target potential customers, and we can do this by basing our content around this search criteria.
Keyword research is all about finding the optimal words and phrases that will result in our message arriving at our target audience.
If you appear on the first page of Google, the chances are, that when someone types in what they are looking for, they will immediately be able to click through to view your content, because it will have been presented to them without them having to trawl through umpteen pages to find the information they seek.
The less competition the keywords have, the better the chance of getting ranked higher, when producing quality content.
For example, let's suppose we are in the "Gifts for women" niche, and are looking for a keyword for our blog post.
Below, "gifts for women" has been used as the initial search criteria.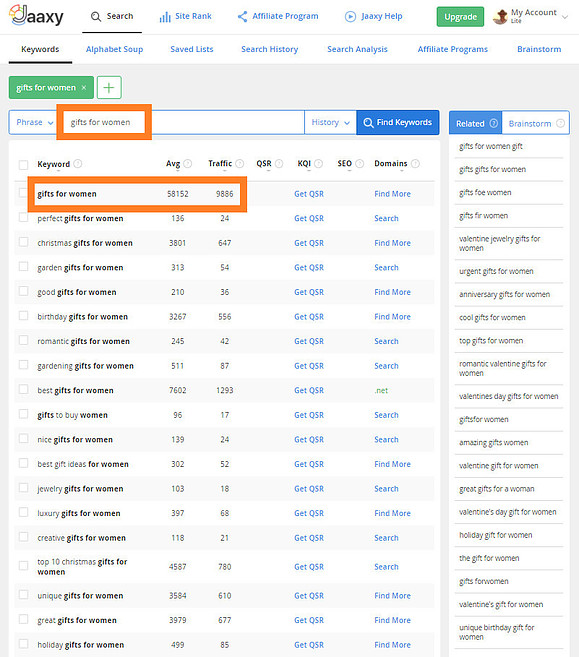 As you can see, it has an average number of searches per month (Avg) of 58152, and the possible traffic generated from this if your article appears on the first page of Google, is 9886. All well and good, until you consider the next column. This is the QSR (Quoted Search Results). The number of websites ranked in Google for this exact same keyword.
By clicking on the "Get QSR", this score will be revealed, along with an SEO (Search Engine Optimization) score, and a traffic light system KQI (Keyword Quality Indicator). Green for GOOD, Yellow is OK, and Red is POOR.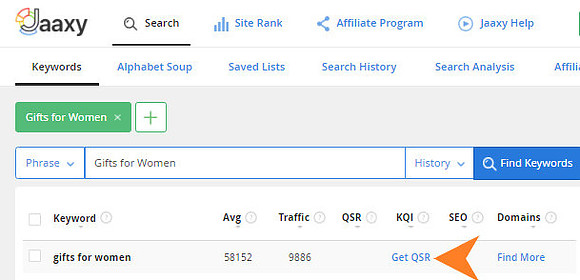 This image below shows a QSR of 193, KQI as Normal, and SEO 77.

If we look further down the keyword list, we may find better keyword options, that will hopefully be easier to rank for.
Remember, we are looking for a searched for phrase, with some traffic, and low competition.
Or, to put it another way, KQI = GREAT, SEO = towards 100.

Now, with a Keyword Quality Rating of GREAT, a good SEO score, and much lower competition, we are a lot more competitive in our bid to rank well. "Unique Gifts For Women" has a greater chance of ranking, than just "Gifts For Women".

Alphabet Soup
---
So, what Is Alphabet Soup?
The Alphabet soup technique can help to further refine the choice of keywords.
Using our original search, we will be able to find many more keywords for every letter of the alphabet!
With the slider (arrowed in the image below) each letter can be viewed to show the various search results, from A to Z.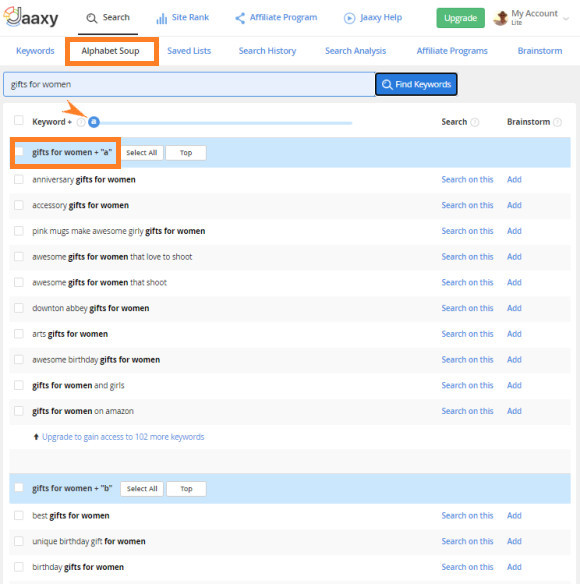 This increases the chance of finding rarely used, and therefore, more competitive keywords.
This feature is very easy to use, and as well as using the slider to index through the letters, the scroll wheel on a mouse will do the same job.
For instance, scrolling through to the E's produces this result, and we can then "Search on this". This will insert the keyword into the "Keywords" tab for a deeper search.

This is an interesting result derived from the above!

Amazingly high SEO score, and tiny competition for this keyword. However, standing alone, this phrase does not quite make grammatical sense.
What, then, if we used this keyword (which actually gets searched on average 88/month) as part of our article/blog title?
"Environmentally Friendly Gifts Women Will Love!"
A good quality, well written article based on this title, might stand a high chance of attaining a page one ranking on the search engines. I almost wish I was in the "gifts for women" niche myself! I would definitely use this!
Jaaxy Keyword Research Tool – Saved Lists
---
For very easy recall, the Jaaxy keyword research tool has the "Save To List" function. Absolutely straight-forward, and does what it says on the tin!
While you are searching out great keywords, you can save-as-you-go into a keyword list, for future recall, simply by checking the small box alongside the keyword you want to save, and hitting the "Save To List" button.
Keyword List Example – List Named "Gifts For Women".
If you are curious about how these QSR, KQI, and SEO ratings compare, try inserting these into the tool below, and see for yourself 🙂
Once you have your saved list, apart from recalling the list directly in the application, you also have the ability to export the list to a spreadsheet, for off-platform analysis and storage, if that is what you require.
Search History
---
For when you need to go back and revisit previous searches, the keyword "Search History" tab will get you straight back to your list, and you can then see the search term, type, details, and date the search was performed.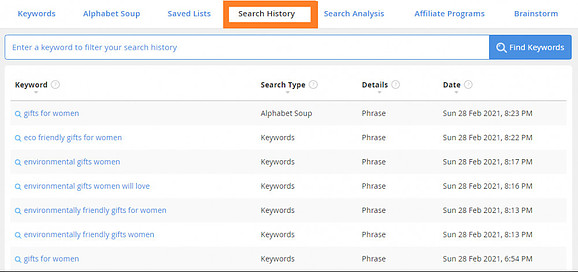 Being able to recall a search history list is a great quick reference tool, and time saver.

Search Analysis
---
With the keyword Search Analysis tool, it is possible to have an insight into what the competition looks like, for any particular search.
Put another way, this gives you the ability to reverse engineer any successful website!
In the example below, I have inserted the phrase previously arrived at from the Alphabet Soup search, above, "Environmentally Friendly Gifts Women Will Love".
Upon clicking the "View Details" button, to the side of each listing, details can be viewed, from which it is possible (along with calling up and viewing the web page), to ascertain whether it is viable to use this keyword phrase.
The example outlined in position 4 on the first page of Bing, shows that the word count is pretty reasonable, and that maybe a post of similar length and content quality, may be worthwhile.
Opening up the actual web pages, together with being able to view these metrics, is very useful, when determining the competition, and the strategy to out-perform them!

Affiliate Programs
---
This, also is simplicity itself. By entering your keywords, and using the drop down menu, you can quickly find affiliate offers associated with the keywords. This feature currently uses Commission Junction, Linkshare, Digital River, and Clickbank as a source for these offers.
The choice is somewhat restricted, as there a vast number of other sites delivering affiliate offers. However, it can act as a starting point.

Brainstorm
---
Keyword And Domain Name Brainstorming Tool
Jaaxy has a way of utilizing current trends, via the use of the Brainstorm tab. This pulls data from Google Trends, Alexa Topics, Amazon Best Sellers, and Twitter Trends, into a numerically ranked list of up-to-the-minute trends and talking points.
Here, you are also be able to add your own ideas to the brainstorm queue.
These can easily be added to a "Brainstorm list" by hitting the "+" sign. Once in the list, clicking on one of these ideas, opens it up in the "Keywords" tab.
Here you can then seek out your next winning keyword, and also toggle between the "Brainstorm" and "Related" headings to really go in deep, and take you in all sorts of new directions!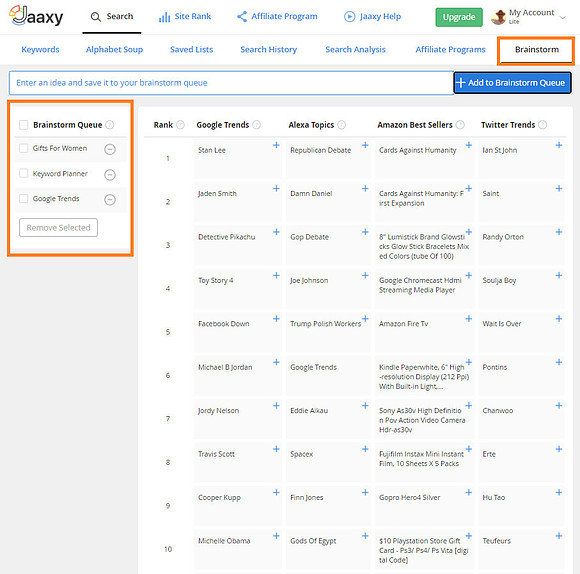 This feature is also great for niche research, as you can discover things you may never have thought of without it!

Site Rank
---
This is where you can check your Google keywords ranking analysis, along with Bing, and Yahoo.
In this example taken from a Bing search, the keyword phrase "Environmentally friendly gifts women" has been search on Bing.
Outlined here are the keyword phrase, Bing rank position, and a snapshot of the post sitting at position 10 on the first page.
Check Out The Competition!
---
Gain an advantage by checking out you rivals, with this competitor analysis search!
Set the top line to "Search"
Next, set to "Keywords"
On the dropdown box, set to "URL"
Enter the URL of your the website you want to check out
This will produce a list of keywords that this URL ranks for.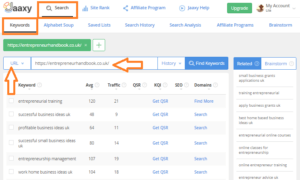 Jaaxy Keyword Research Tool – Training
---
The training for the Jaaxy platform, comes in the form of 4 videos.
Jaaxy Keyword Research & Management (22 minutes)
Jaaxy Website Research and Analysis (17 minutes)
Niche Research Refinement (16 minutes)
The Affiliate Program Walkthrough (13 minutes)
Should you need them, they are an easy watch, as everything is laid out in a very logical, and easy to understand way.
Jaaxy Costs
---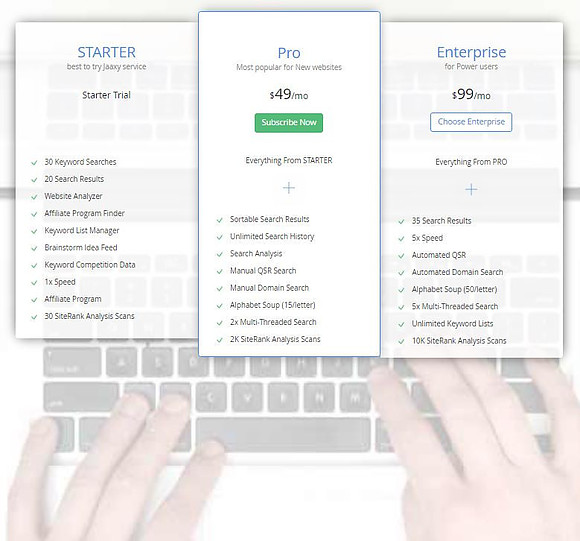 Make Money With Jaaxy Affiliate Program
---
Very useful for anyone in affiliate marketing, is the Jaaxy Affiliate Program.
Would you like to increase your income by promoting Jaaxy?
Take a look at the revenue possibilities below, then FIND OUT MORE HERE.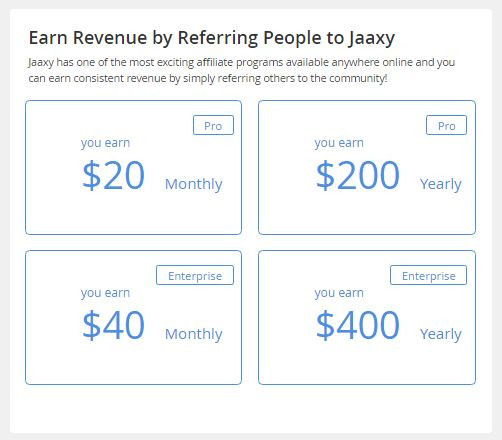 (UPGRADE TO PRO REQUIRED TO ENABLE PROMOTING JAAXY AS AN AFFILIATE)
Or, USE ALTERNATIVE METHOD IN CONJUNCTION WITH WEALTHY AFFILIATE where Jaaxy Lite is included with Premium membership for $49/month. This way you get the advantage of being able to create 10 WordPress sites (includes hosting & full support), ongoing training, unlimited 24/7 live help, and a very responsive and engaging community!
A great way to learn affiliate marketing!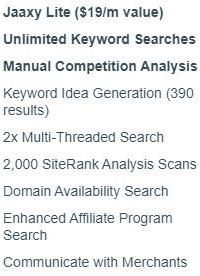 Good/Bad/Ugly
---
THE GOOD
Easy to use
Free to start
Great for newbies!
Generous affiliate program
THE BAD
Support is much better when accessed through Wealthy Affiliate
Not the most modern User Interface
Functionality could do with bringing up to date a bit
THE UGLY
Nothing really!…….. It is a legitimate site
> Bonus #1: 1,000 High Traffic, Low Competition Keywords
Download 1,000 hand-picked keywords that are set-up for SEO success. Download the list today as our free bonus to you!
> Bonus #2: Niches, Keywords, Success
Download your Niche Research Bonus and learn how to utilize Jaaxy to uncover hot niches in minutes. This guide will be your handbook for Niche Research!
> Bonus #3: Domain Industry Secrets
Secrets to tapping into the billion dollar industry. How to uncover low cost domains and sell them for much more. Your guide to domain flipping… made easy with Jaaxy.
Ready To Find Your Next High Ranking Keyword?
Conclusion
---
So, to round up my Jaaxy review 2021, the question posed in the title was "Can Jaaxy Keyword Research Tool Help You Rank?"
I believe it can, and am happy to continue using this keyword research tool as part of my affiliate marketing journey. I personally use the included version as part of my Wealthy Affiliate membership, where there is 1st class training!
Yes there are other, more sophisticated tools out there for researching keywords, and it is very much a personal choice, as they all have their good and not so good points.
Will Jaaxy find great keywords – YES. Can it help you rank – YES.
So, over to you!
Do you have experience of JAAXY?
Drop a comment below, as I'd love to hear of your successes! 🙂
Wishing you much success……….
From The Desk Of THE INFINITE AFFILIATE
Related Content:
Why is Keyword Research so Important for SEO?