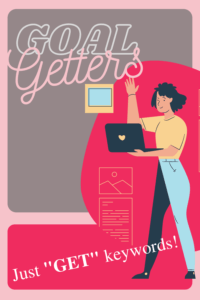 Why Keyword Chef? For people who are new to content writing, SEO (Search Engine Optimization) can be quite daunting! There is now a great new keyword research tool that can help with this! This is my Keyword Chef review, as a user of this tool. Find quality keywords with real search intent, and stand a better chance of ranking your content on page one of Google, Bing, DuckDuckGo etc!
Plot-spoiler: No monthly fees!
Also, find out below, how to get your free 1000 keyword credits.
Disclosure: This post may contain affiliate links, meaning I may get a commission if you decide to make a purchase through one of these links. Please be assured that there is no additional cost to you by doing this. Please read my disclosure for more information. Thank you.
Keyword Chef – Review
Name: KeywordChef
Website: keywordchef.com
Price: Free & Pay As You Go – Check Prices Here
Overall Rank: 4.5 out of 5
Keyword Chef – Product Overview
---
Developed by Ben Adler, Keyword Chef is a great "go-to" tool for keyword research!
This tool's brilliant USP, is finding good keywords to target, that have weak competition in the Search Engine Results Pages (SERP).
It identifies, and gives these pages a score, depending on the number of weak pages ranking in the SERP. The higher the page score, the easier it will be to rank for that particular keyword (assuming you write good quality content).
Keyword Chef – Who Is It For?
---
Keyword Chef prides itself on being "Built for publishers, by publishers".
Keyword Chef is a great tool for new bloggers, or anyone else who needs to do keyword research as part of their business. Anyone who wants to position their content, or products in front of their ideal audience.
A simple to use tool, that makes searching for long-tail keywords less of a chore! (for those who don't enjoy the process)
If you need to increase the free traffic to your website, blog, or landing pages, you need to be targeting great, competitive keywords to rank higher. This is where Keyword Chef excels!

How does Keyword Chef work?
---
Keyword Chef works by only producing keywords that have known search intent (what people are actually looking for).
This is useful, because it is a real time saver! All the "junk" words will be automatically removed, and therefore, not become part of your search results. All unnecessary, or irrelevant words can be excluded from the search.
What you end up with, is highly relevant keywords that are of great interest to both the person searching Google, and you! Keywords you'll actually want to create content around.
Keyword Chef – Key Features
---
Automatic filtering for clear, real search intent
Real time SERP analysis in bulk
Smart * Wildcard Search
Zero monthly fees
Keyword Chef – Tools & Training
---
For experienced SEOs, this tool will be totally intuitive. To anyone who is new to keyword research, thanks to a design that focuses on both functionality, and simplicity, it will be very easy to learn in minutes, even with minimal prior knowledge!
To show how useful this keyword research tool can be, here is an example of a real search report:
The search term being "best * for chefs" – (Where * is the Wildcard)
With this report, the results can then be filtered by keywords, volume or SERP score (higher number SERP score is better), as required, therefore homing in on your ideal keyword to target. It can even highlight keywords that have a missing snippet in the SERP. This means you can easily identify the right keywords to target, to win the snippet (AND, THEREBY, THE MAJORITY OF THE SEARCH TRAFFIC!).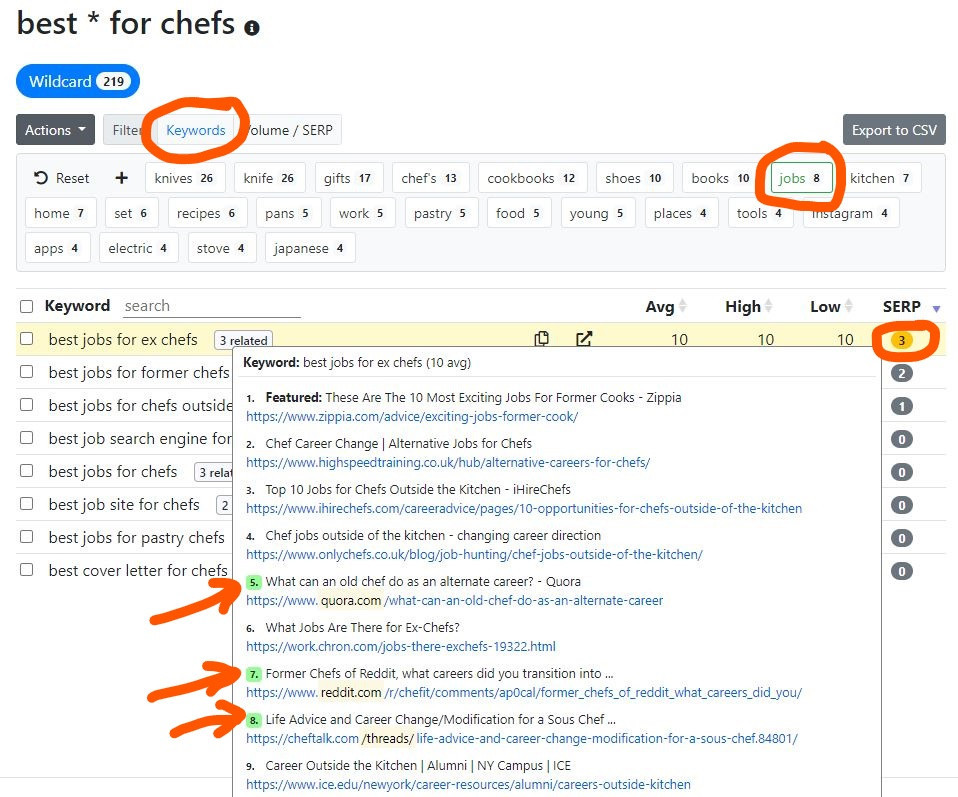 As you can see from this image, The SERP report has now been filtered by the keyword "JOBS", and there is a SERP score showing the 3 weaker pages within the SERP.
"Best jobs for ex chefs" could, with the right content, be an easy long tail keyword to rank for.
An added bonus of Keyword Chef is that, using the Preview Window, you can delete any words that you do not need in the search results, prior to running the report, thereby saving your credits balance!
Reports are automatically saved, and can be recalled using the "My Reports" button at the top of the page.
This is awesome, because you don't need to re-run a search, and therefore there is no need to pay again to do the same search.
Keyword Chef – Support
---
Keyword Chef Founder/Developer Ben Adler, is very transparent in the way he operates, and is available to help with queries, insights, and support, regarding the tool. He can be reached via social media as well. This can all be accessed from the "Learning Center" link on the Keyword Chef homepage (see above image).

Keyword Chef – Pricing
---
Keyword Chef has ZERO monthly fees!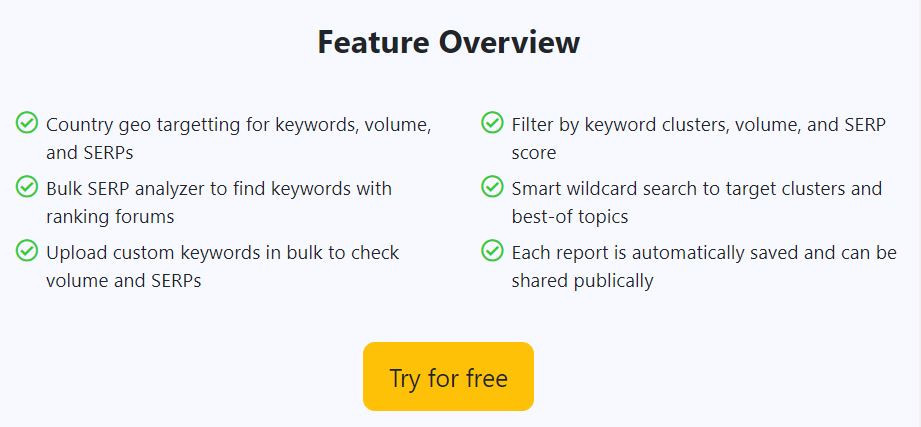 (Using the Preview Window, you can delete any words that you do not need in the search results, and save using unnecessary credits!)
My Opinion on Keyword Chef
---
A easy to use tool, that will find low conpetition, competitive keywords for a blog post or product review, without all the usual fuss!
Uncomplicated, yet effective, this tool is great for newbie bloggers!
I love the simplicity of this tool, and will definitely continue using it for my website!
Keyword Chef FAQs
---
Does Keyword Chef have a free trial?                               Yes – You can access the FREE TRIAL here!
Does Keyword Chef have monthly fees?                          No – You can pay as you go
How much does it cost to buy credits?                              $20 will get you started (1,200 keywords)
Where can I find my saved Keyword Chef reports?         Saved reports are under the  "My Reports" heading
Keyword Chef – At a Glance
---
Name: KeywordChef
Website: keywordchef.com
Price: Free & Pay As You Go – Check Prices Here
Overall Rank: 4.5 out of 5
Verdict : Good/Bad/Ugly?
---
From my own experience of using this tool, I am happy to give it a rating of GOOD!
Final Word
---
That concludes my Keyword Chef Review – Find Quality Keywords With Real Search Intent easily now, at your leisure!
I hope this review was helpful to you, and would love to hear your thoughts on it after you have enjoyed your free keyword trial below (NO CARD DETAILS REQUIRED).
Let me know what you think in the comments section at the end.
Wishing you much success……….
From The Desk Of……… THE INFINITE AFFILIATE